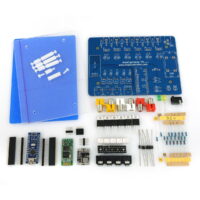 dropControllerV3 Kit v1.51
US $79.00
HK $500.00
Weight: 500gm
The kit includes all the components required for the main device, including PCB, acrylic base and top, the Arduino, the Bluetooth module, and the buck converter.
The Arduino Nano is pre-programmed and the HC-06 Bluetooth module is pre-configured.
The power barrel jack is 5.5 mm OD, 2.1 mm ID and you will need a power supply with a plug that fits this size socket.
This kit does not include power supply, shutter release lead, flash trigger lead. If you need a PSU and shutter release cable see the Kit Plus above.

The kit requires some soldering skills and of course soldering equipment. I tried to keep the layout and assembly as easy as possible but some areas require a little care. All components are through hole and anybody with soldering experience should not have any difficulty putting the dropController together.
I do not recommend this as a first soldering project.
A construction guide can be found here (PDF).
A full list of components is available here (PDF).
The main components are tested before sending out but due to the nature of the kit I cannot fully guarantee it. There is a lot of possible user error!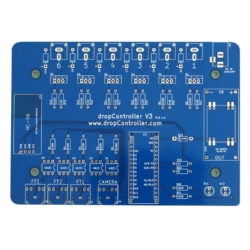 dropControllerV3 PCB
US $8.00
HK $60.00
Weight: 300gm
The PCB, just the PCB and nothing but the PCB.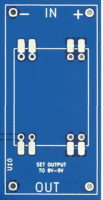 The PCB can accommodate 2 types of DC-DC step down buck converter (not included).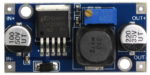 Variable output
Remember to set the output voltage before connecting to the circuit. This is a very common module.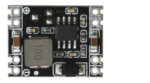 Fixed 9V output
This module is available with different output voltages (3v,5v,9v,12v). Double check you have the 9V version.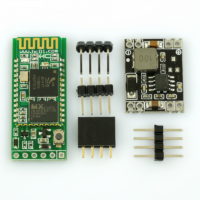 Bluetooth & Buck Convertor Set
US $10.00
HK $75.00
Weight: 300gm
I didn't intend to sell these, the Bluetooth modules I use are not the cheapest, but since I have been asked a few times I added them to the price list.
1 x 9V fixed output DC-DC step down convertor
1 x HC-06 Bluetooth module with separate pins.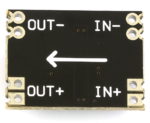 The DC-DC step down converter has a fixed 9v output so there is no setup required. Just make sure you get it the right way around. Follow the arrow on the back
The HC-06 Bluetooth modules are the official (and original) modules from HC/Wavesen. These are more expensive than other similar modules but the HC modules are reliable and well supported and as a bonus they have a nice shinny blue LED and everybody likes shinny blue LEDs!
Although I recommend the HC01 modules you do not need to use them. Most HC-06 modules will work with the dropController.