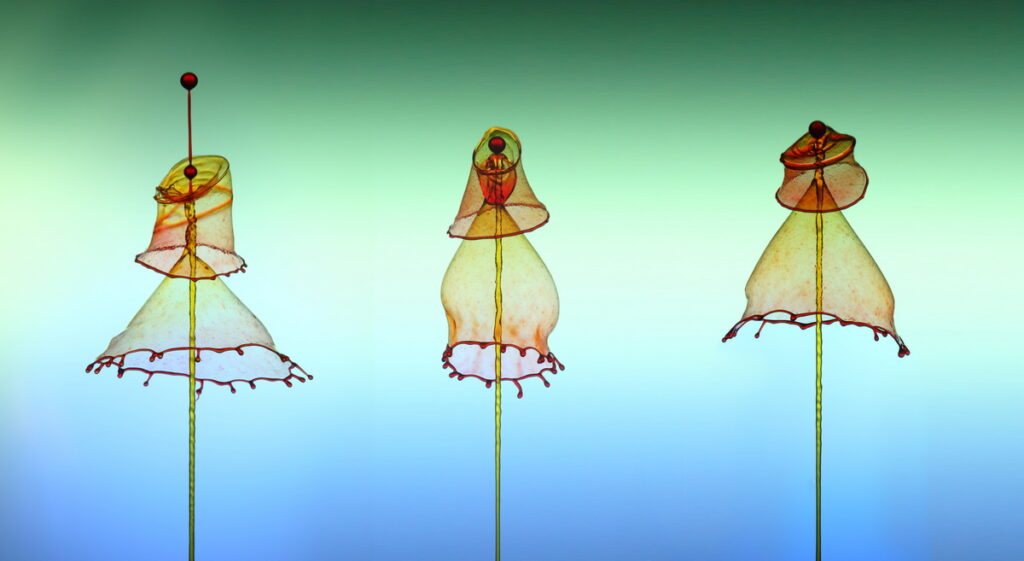 dropControllerV4 is the most advanced drop system available. It is an extremely precise system that uses a clear, easy to understand control panel. It looks nice too!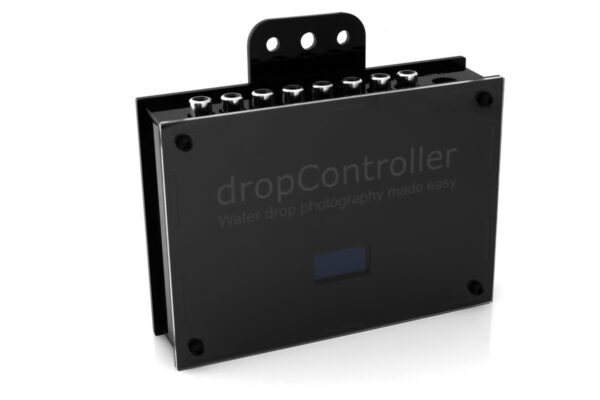 The dropController system has been developed over many years by drop enthusiasts for drop enthusiasts. It started life over 25 years ago as a purely DIY project (if you wanted one you had to build it) and grew to become the ultimate professional water drop system.

dropControllerV4 makes it easy to start water drop photography. The advanced features and functions make experimentation easy and fun and allow you to take water drop photography as far as you wish.
8 easy to connect valve ports
48 drops (can be extended)
Compatible with 12v or 24v valves (requires matching power supply)
Clear easy to use, easy to understand interface
Compatible with any modern wifi or network enabled device*; smart phone, tablet, laptop, PC
Easy to use wifi connection wizard
Super fast multicore processor
Extremely accurate trigger times
LCD status screen
Fully updatable firmware with an easy to use update function
Local Mode or Network Mode. Connect directly to the dropControllerV4 or have the dropController connect to the local net work.
Convenient valve drain function
Place on the table top or mount to a stand
Includes the new advanced features from dropControllerV3
Loop Mode with delta values
Shutter SYNC trigger. Set & forget
Loop Mode & Loop Mode drop times COPY
*Requires Javascript.
Loop Mode is the heart of the dropController. Loop Mode allows for easy collisions when starting and very advanced patterns and sequences after you get the hang of things.
Local mode – connect directly to the dropController (requires a device with wifi such as a phone, tablet, or laptop)
Network mode – connect the dropController to your local network and then use any device connected to the same network such as a PC
Valve Drain – There are 2 valve drain modes
1 – App Mode using the valve buttons in the app. The app has to be connected.
2 – Manual Drain Mode using the SEL and SET buttons on the actual dropController. Manual Drain Mode does not require the app.

Controlled from a clear, easy to use, fully featured built in webapp.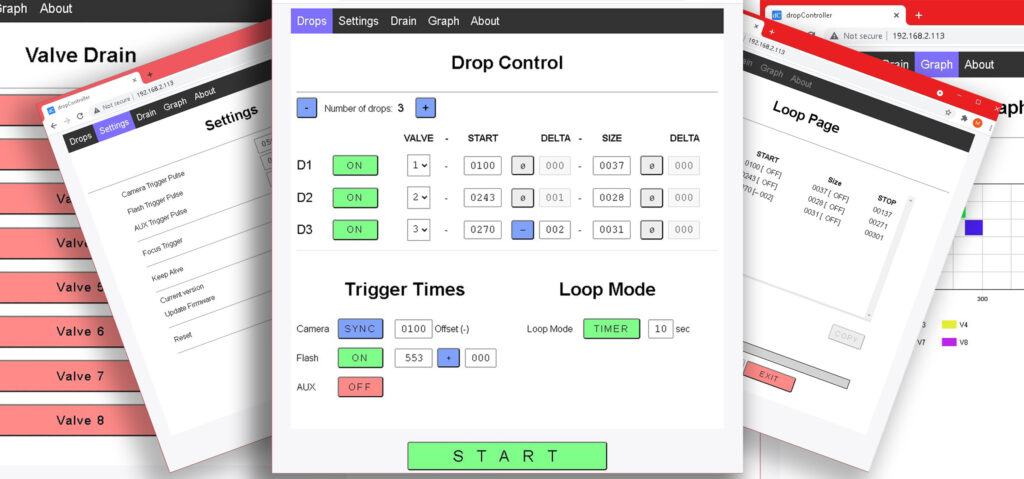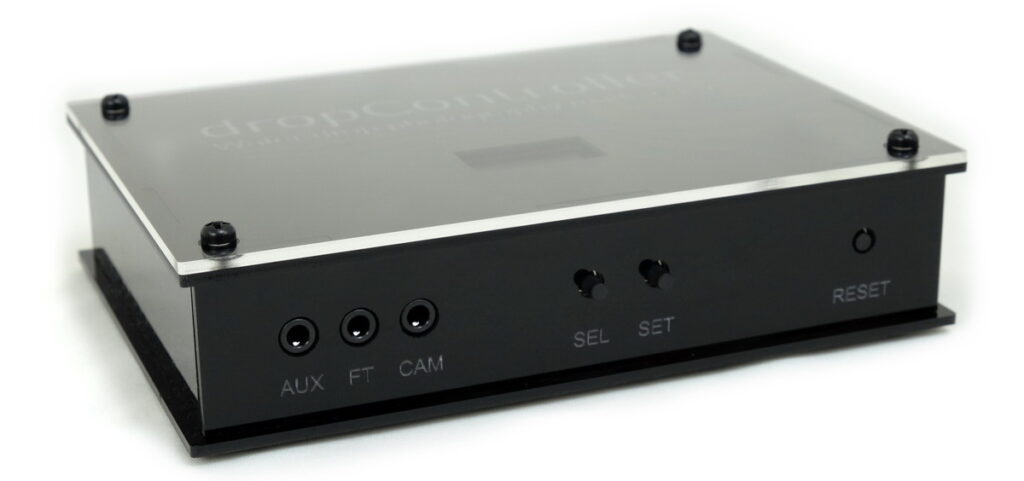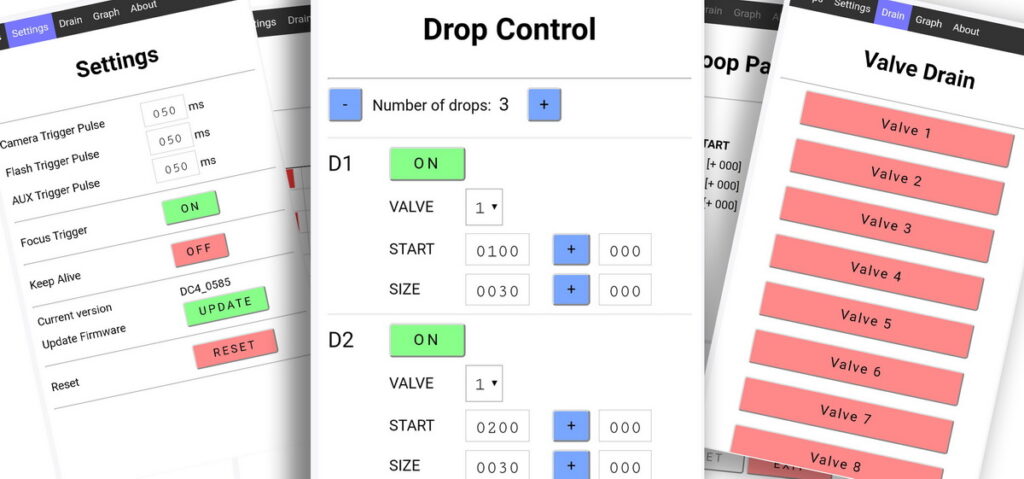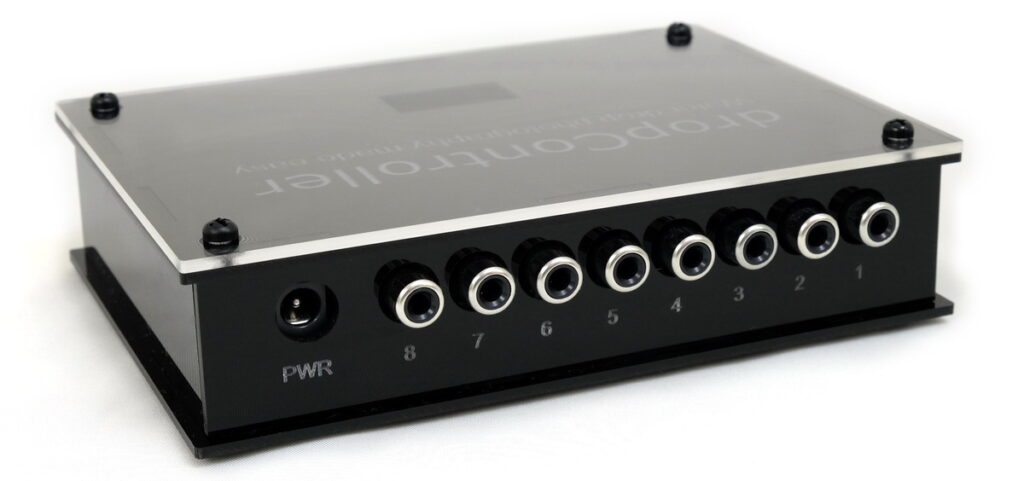 In The Box
1 x 8 valve port dropControllerV4
1 x 24v 5 Amp power supply
1 x Shutter release lead
1 x Flash trigger lead
2 x 1.5m trigger lead extension